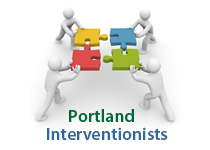 When working with a loved one who is resistant to the idea of getting help, intervention can be a wonderful tool. The myth that an individual must "hit bottom" before becoming willing to accept help is simply not true. A well-executed intervention can create the necessary willingness for your addicted loved one to enter treatment and begin the process of recovery. Below is a list of local interventionists. While we cannot guarantee the outcome or results of your intervention, each of the interventionists below has been vetted and will provide you with excellent information and training to ensure the best outcome possible. Some of them also provide recovery consultation services for the family and addicted individual both during and after treatment to maximize the possibility of long term sobriety. Intervention styles can vary, so make sure you call and ask questions as you interview your potential interventionist.
As always, please feel free to contact us with any questions by clicking here or calling 888-866-9010.
---
Freedom Interventions
Matt Brown, CAI, BRI-C
Call us at 888-762-7557
Email us here
Demographic groups:
Adults, Young Adults, Adolescents
Area of expertise:
Drug and Alcohol Interventions
Insurance accepted:
No
Additional Information:
Bilingual (Spanish)
Will provide service outside the Portland area. All families receive 6-12 months of recovery case management services with the cost of the intervention.
---
LJK Consulting
Leslie Koralek Ph.D.
Call us at 503-407-4885
Email us here
Demographic groups:
Professionals, adults, young adults
Area of expertise:
Intervention for all issues
Insurance accepted:
No
Additional Information:
Bilingual (Spanish)
Will provide service outside the Portland area. Personal recovery, co-founder Hazelden Springbrook.
---
Clere Consulting
Amy Prouty, MSW, C.A.D.C. I

Call us at 503-636-0012
Email us here
Demographic groups:
Family education, support, national referral resources, case management, invitational intervention
Area of expertise:
Intervention for drug addiction, codependency, eating disorders, relapse prevention
Insurance accepted:
No
Additional Information:
Will provide service outside the Portland area.
---
Juniper Behavioral Consulting, Inc.
Thom Delzell, MA, CADC
19800 Village Office Court
Suite 201
Bend, Oregon 97702
Call us at 541-385-6001
Email us here
Demographic groups:
Adults of all ages, Health Care Professionals, families
Area of expertise:
Extensive experience working with health care professionals providing addiction interventions, evaluations and approved monitoring. Addiction Interventions for families and adults. Also provide Continuing Care, case management and sober companion services
Insurance accepted:
No
Additional Information:
Will provide service outside the Portland area. Have worked in the addiction recovery field for 21 years, providing treatment services in residential, outpatient and private practice settings.
---
Compassionate Interventions
Primary Contact:
Benjamin Randolph
10600 SE Mcloughlin Blvd
Suite #207
Milwaukie, Oregon 97222
Call us at 503-901-1836
Contact us directly from our website here
Demographic groups:
I provide services to everyone except for young children
Area of expertise:
I provide Interventions and Therapy for:
-Alcohol Addiction
-Drug Dependency
-Compulsive Gambling
-Sexual Addictions
-Post traumatic Stress
Insurance accepted:
No
Additional Information:
Will provide service outside the Portland area.
I have been doing Interventions since 2005. I am a Masters Level Therapist (MS), a Certified Intervention Professional (CIP), a Master's level Certified Alcohol and Drug Counselor (CADC III), and I also have 15 years of personal recovery from addiction. Meeting with the family of an addict, I can provide education from first-hand experience of addiction, and an extensive body of knowledge to help their addicted loved one enter into a program of recovery. I am a veteran, and have great experience working with PTSD, including facilitating training for several local law enforcement agencies on how to negotiate with veterans in hostage situations. I have worked in several fields of treatment, and when looking for treatment for your loved one, it is my goal to provide the correct facility that will give your loved one the best chance at long term sobriety.
---
Hope Restored Interventions and Online Counseling
Autumn Brown Harris MS, CADC II, QMHA
Call us at 503-875-2787
Email us here
Demographic groups:
Youth, Tweens, Teenagers, Young Adults, Adults - spouses, friends, grandparents, employees, families, cousins, aunts and uncles. Anyone. LGBTQ, Spiritual, Christian.
Area of expertise:
Most interventionists subscribe to one specific model of intervention. At HOPE Restored Interventions we believe each person responds differently to the different models. Instead of telling you what will work for you and your loved one we will personalize our approach to fit the addiction, the situation and the person. Therefore at the first official consultation, together, we will discuss the most effective method of intervention.

We create a strength based, client centered approach to intervention specific to your lived one and family. We can review many different styles and evidence based practice to find a fit for your family.
Insurance accepted:
No
Additional Information:
Will provide service outside the Portland area.

My name is Autumn Harris and I have 10 years experience working with Individuals with addiction and mental health disorders. My educational experience is as a Certified Alcohol and Counselor Level II (Bachelor Level), a Masters Degree in Science and I am Qualified Mental Health Associate. Further, I have worked for years with Individuals who lost their way through life and have fallen into the trap of alcohol or drug use to cope. I have years of experience working for the Nation's Largest Addiction Treatment Provider, Faith based recovery, DUII, Youth with addiction, Women with children and LGBTQ community. I can guide you, your family, your friend through the confusing steps of identifying, accepting, assessing, and treating alcoholism or addiction.

At its core addiction is an enemy of life. Addiction changes the way the brain communicates and makes signals around emotion and decision making. In turn this makes the person using Alcohol or drugs behave in ways that are irrational, angry, confusing and alienate the people around them. The use of drugs creates such strong dopamine pathways that the brain becomes driven to use drugs in spite of the negative effects on their job, family and children. Alcohol use creates tolerance and dependence, people do not notice the problem as readily as with drugs.
I can help.

I have performed hundreds of assessment, referrals and using ASAM criteria can make a referent packet for your coworker, friend or loved one after a consult assessment or we can proceed to intervention. Interventions can be awkward and received with denial; I can guide you past this into acceptance and healing. As a experienced interventionist I can guide you into treatment placement or referral for person in need.