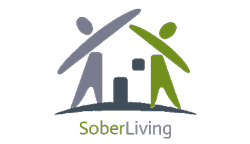 On this page you will find resources for sober living or halfway houses. These residences can be a vital link in helping someone make the transition from treatment back to "real life." Likewise, they can be a good resource to help someone who may not need an inpatient program have the daily accountability needed to be successful in an outpatient setting as they begin the process of recovery.
Each living environment will operate according to its house rules to make sure that they are providing a safe environment for their clients. Ask questions about what would be expected of you or your loved one if you were to use their services. It's important for you and them to agree that this is the right fit. Also, many facilities will have a sobriety requirement for their new clients. This means that a client will need to have been sober and medically stable for a certain amount of time before entering their residence. Make sure that you are aware of this and are honest about your (your loved ones) amount of time sober.
While we cannot make promises about the rates of success of the programs listed on this page. We have done our best to vet these residences and trust that you or your loved one will receive excellent care from them. Please contact them and find out more about what they offer.
As always, please feel free to contact us with any questions clicking here or calling 888-866-9010.
---
Come Rest Awhile
Nancy P. Engeman, Executive Director
Call us at 503-635-0102 or 503-453-7947

Email us here
Demographic groups:
Adult women, 18+
Area of expertise:
Offers a safe and supportive environment in a family setting for women in recovery from substance abuse

Insurance accepted:
No
Additional Information:
While we offer information & references to outside help, our residents must attend 12 step meetings and work a recovery program.
---
Astoria Pointe
263 West Exchange
Astoria, Oregon 97103
Primary Contact - Intake
Call us at 877-435-7790
Email us using a Secure Contact Form
Demographic groups:
We treat those over the age of 18 and their families. We are LGBT inclusive and sensitive.
Area of expertise:
Detox, Treatment Center, IOP, and Sober Living. We specialize in gender-specific chemical dependency and co-occurring disorders treatment. We use abstinence-, evidence-, and experiential-based therapies.
Insurance accepted:
Yes, we work as an out-of-network provider for PPO plans
Additional Information:
Please call anytime with your questions. We will work with you, your clients to make admission as easy as possible.
---
Serenity Homes of Oregon
7327 SW Barnes Rd
Box #203
Portland, Oregon 97225
Primary Contact - Gregg Wilkey
Call us at 503-203-2545
Email us here
Demographic groups:
Adult men 18+, young adults, gay
Area of expertise:
process groups, recovery social activities, therapy and counseling resource referrals
Insurance accepted:
Yes, most major providers
Additional Information:
Very integrated with families & children and family dynamics in the recovery process post-treatment
---
---
Bridges to Change
10570 SE Washington
St. Ste 201
Portland, Oregon 97216
Primary Contact -
Katelyn Bessette, LPC, CADCII
Call us at 503-465-2749
Email us here
Demographic groups:
Adults 18+, individuals exiting incarceration
Area of expertise:
We provide clean and sober and mental health housing for individuals low-no cost. Rental beds range from $360-$480 for a shared room. We also have job development mentors, recovery mentors and recovery support services. Bridges to Change is introducing an intensive outpatient treatment center for addictions and aftercare services for alumni.
Insurance accepted:
OHP
Additional Information:
Bilingual (Spanish)